Back At It
It has been a couple weeks since we did any serious work on the Les Paul build, but they have not been idle weeks.  In the shop, we spent some quality time working on jigs that will make life much easier over the next few weeks – I'm
working on getting those builds posted and will add links when I get that done.  Out of the shop, I saw the Beach Boys in Santa Barbara at one of Brian Wilson's last appearances, I watched Zach jump out of a plane, I spent half a week at Pacific Beach in San Diego (Data Quality conference and paddle boarding on the bay), and I hung out at Disneyland twice. Probably more than you were really interested to know, but the point is, it's been a busy few weeks.
But today, Josh and I were back at it.  We got our dual-action truss rod this week (I know it's upside down in the pic – no need to comment), but we need to make a template for routing the truss rod channel in the neck, and we really wanted to work on the guitar today, as opposed to making templates again, so we set the neck aside, and pulled out the mahogany body base.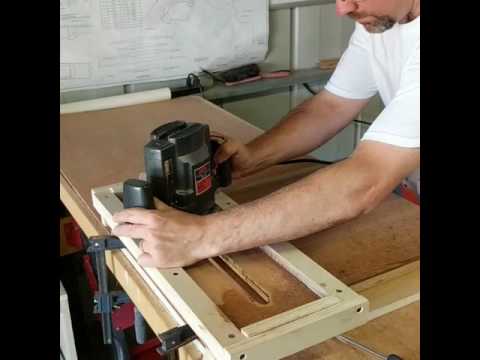 The glue up was nice, but still needed to be surfaced flat, and since we don't have a planer/thicknesser, or a drum sander, we built a router sled surfacing jig and went to work with that. The process went smooth as silk – it turns out that actually surfacing the board was far easier than the process of building the jig.  I guess that's the way it's supposed to work, but sometimes it just surprises me when things work the way they are supposed to.  The glued up mahogany board came out nice and flat and measured out at 1.59 to 1.61 all the way around.  It still needs some sanding before it's ready to have the maple top glued on, but I was very pleased with how even the surface came out using the router sled.  With the surfacing done, I was reminded how pretty the grain is on this piece of wood.
Cutting To Shape
With the surfacing done, I moved on to rough cutting the body to shape.  I started on the band saw but quickly realize that it would be easier to cut most of the waste off at the table saw.  So after a few quick cuts there, I moved back to the band saw made pretty quick work of getting the body roughly to shape.  I'll clean up the final shape at the router table with the MDF template – a task which is on hold until the new router with a 1/2″ collet makes an appearance.
Josh is pleased with the progress so far, and had been doing a great job learning the ins and outs of the wood shop.
Here's a bonus shot of him getting his first lesson in sharpening chisels and plane blades a couple weeks ago.
Let me know what you think of the progress!